All
about
the
rally
Jean
Berha
Historic
(english)

2018 dates for the event are : 28-29-30th september. Entries on prelist are open : simply send us by e-mail your name and surname, copilot, car (brand, model, year of production), and eventually your racing log) at Cette adresse e-mail est protégée contre les robots spammeurs. Vous devez activer le JavaScript pour la visualiser. or call at 00 33 (0)4 93 87 18 17
The rally gives tribute to Nice born world famous race driver Jean Behra. The event is organised by Automobile Club de Nice, founded in 1896.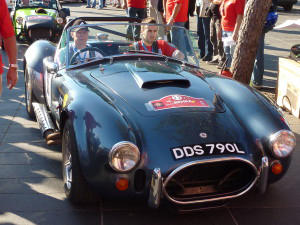 Start and arrival in Nice (French riviera).
2018 rally will be about 1000 kms (including more than 400 kms of regularity stages) along 3 days and half, across national parks of Mercantour and Queyras, southern french Alps. Provisional route includes some of the most scenic roads in the world and share many special stages with world famous Monte Carlo rally. Expect many, many hairpins ! Weather usually goes from bright sun and blue mediterranean sky on the riviera, to possible fresh dews and few showers (more rarely snow) quickly changing for full sun in glorious alpine moutains.
Arrival is located on glamourous Promenade des anglais in Nice.
This is NOT a full speed rally, but a sporty TSD event organised on open roads : that means you have to respect the trafic rules and speed limits.
Speed on regularity stages will never be over 50 km/h. That may sounds easy, but keep 50 on some of the alpine roads used by the event, onboard of a 30 year old car... isn't, for sure ! As in many TSD classic rallies, to be competitive and well ranked at the end, you will have to demonstrate good driving skills, and your co-driver will have to cope with the roadbook, the tripmaster (authorised for regularity category only, mechanical or electronic models) and the stopwatch. The roadbook is kept secret until the start day.
Global feeling of the event is challenging, but always cool and casual, with a great gallic style camaraderie spirit.
Roadbook is in french (so does the roadsigns, anyway!) but will be easy to understood for non-french speaking crews (by the way, first entry last year is a well know gentleman driver from Oklahoma, USA and many entrants are British, Irish, Belgians, Germans, Italians, etc.). No map is required. Our marshalls are very helpfull and some of them are english speaking. An assistance is provided along the event by a tow truck : in case of trouble, your car will be transported free of charge to the closest garage on the road.
50 entries are open, for 30 years old (or more) cars only. Usually, we welcome the enters of some old 'born to compete' rally cars such as Lancia Fulvias, Renault-Alpine berlinette, Renault 8 Gordini, 911 and 914/6 Porsches, Fiat 131 Abarth, Triumph TR6 or Dolomite... but also some less sporty cars (classic berlines, small engined tourers, etc.) and our lot of rarities or 'exotic' cars : TVR Vixen and M-serie, Pontiac Firebird, Mustangs, Cobras, Honda S800, Facel Vega III... Even (2017 event) a 64' Lancia Flavia Zagato from USA (driven by race legend Toly Arutunoff) and a 28' 6C 1500 Sport Alfa-Roméo, driven by a British gentleman ! To be competitive, power is not really the matter : just adding fun to the exercice. Precise navigation and sharp driving is the way to the podium...
2 categories can be entered : "Regularity" with or without TSD instruments (means you have to perform an average speed against time penalties in the 14 regularity stages along the rally) and "tourism" (touring style with no average speed, but same roadbook : you have to achieve the 24 "CH" (for "Contrôles Horaires" : rally checkpoints) along the route.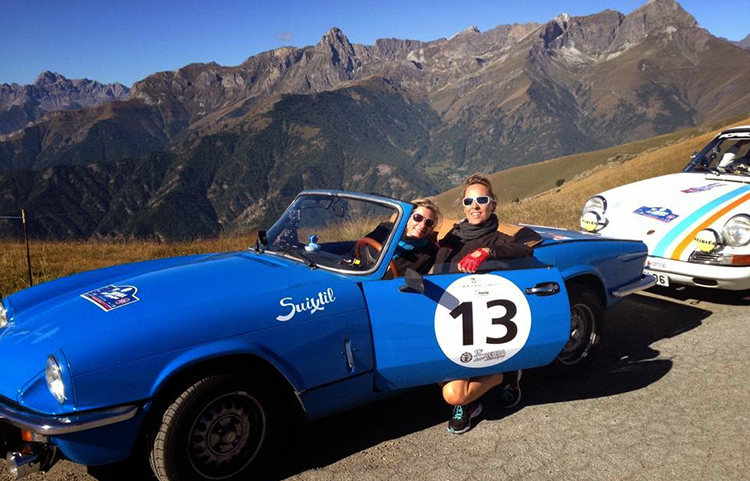 Fire extinguisher, warning triangle and a pair of security vests (yellow, with reflecting stripes) are obligatory to enter.
Laptop computers linked to the car and GPS units are forbidden. In "regularity" category, any kind of precision odometers and stopwatches (mechanical or electronic) and speed sequencers are allowed to be used by the co-driver. For the regularity without instruments, only the original onboard equipments is allowed, plus a stopwatch.
Accomodation and meals (along the rally) are included (3/2 stars hotel and holidays resort). Freshly cooked local food and specialties to discover from our valleys and moutains at each stops. Breakfasts are continentals. Award lunch include champagne service. Please note that for security reasons, no alcoholic beverages are served at the other lunch stops, but wines are included for dinners.
A courtesy luggage transportation along the rally is also offered by Automobile Club de Nice, from start to arrival.
If you need any help to prepare your stay on french riviera and your participation to the event or if you need to rent a classic car to run the event, contact us - Cette adresse e-mail est protégée contre les robots spammeurs. Vous devez activer le JavaScript pour la visualiser. or call at 00 33 (0)4 93 87 18 17